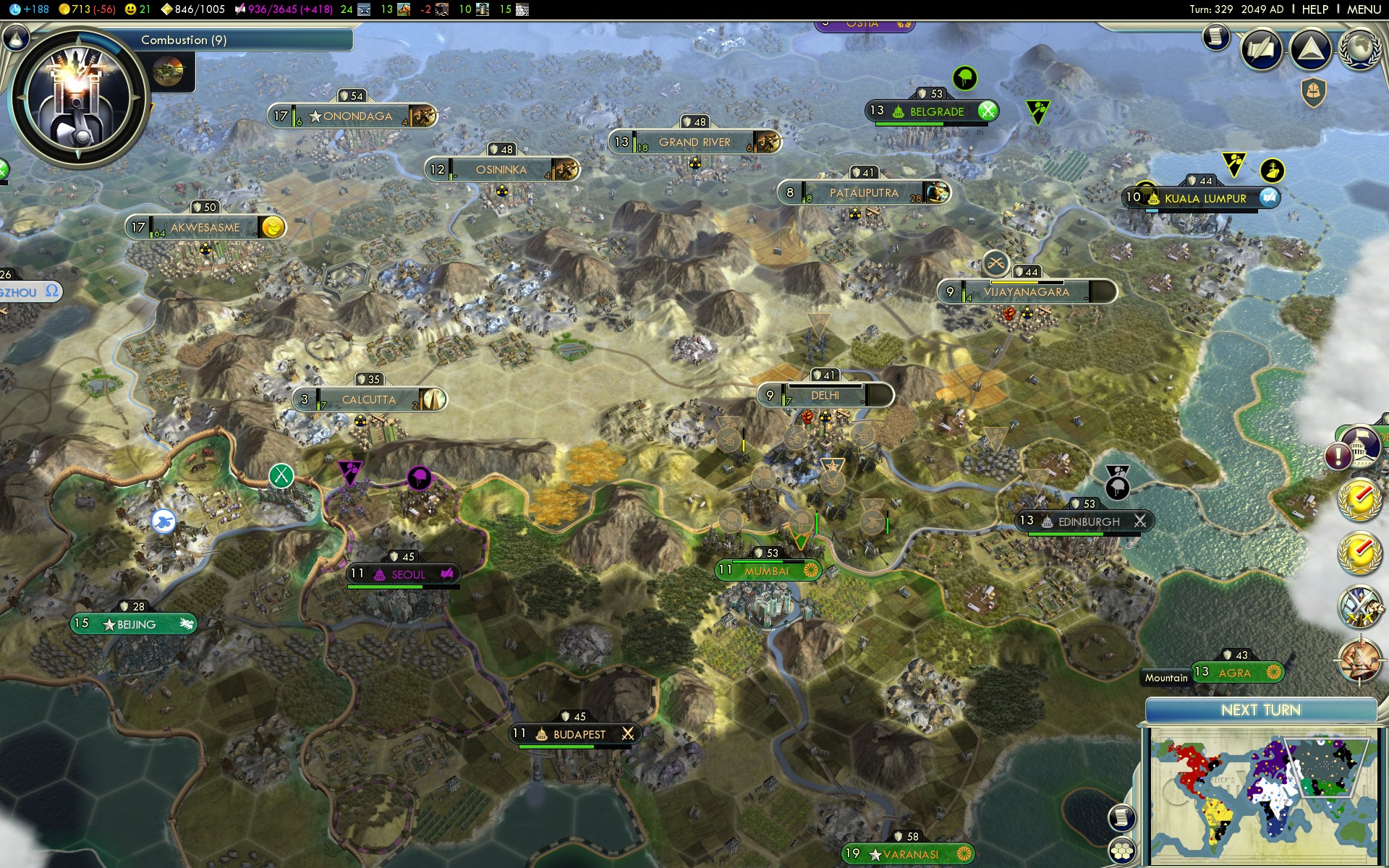 Civilization V
Video games are becoming the future of education. Many teachers are now using video games as an inexpensive way to enhance the learning of thousands of students worldwide. Video games applied to education can be used to create a fun and interactive learning environment to experiment, understand, and expand off of the material that students are taught.
Imagine a world where your history teacher demonstrates to your class why World War 3 never happened by making everyone in the class play against each other in a scenario of
Civilization V
in which the Cold War gets really hot, your science quiz is to make a fully functioning nuclear reactor in a very realistic
Minecraft
modpack, and your physics homework is to complete a custom-made level in
Portal 2
made by your teacher. Believe it or not, this is actually happening in several schools around the world in which the teachers not only use video games to help students understand the context, but have them interact with each other as they do it. For example, teachers at one Norwegian high school use video games like Civilization, Portal 2, The Walking Dead, Skyrim, and The Last of Us to
simulate the context of their lessons
. They are using these games, many of which have a surprising amount of educational capabilities, to teach multiple subjects, including history, physics, religion, Norwegian romantic nationalism, and literature. Another game, known as Minecraft,
is also being used as an educational tool
due to its large potential
Portal 2
for teaching. Because it is a building game with worlds made out of blocks and hundreds of mods and mod packs to modify the game, Minecraft makes it very easy for teachers to make a limitless variety of lesson related tasks, environments, and goals that promote a fun, engaging, and interactive atmosphere for their students. Minecraft's three-dimensional blocky worlds force players to cooperate and think in three dimensions in order to survive, thrive, and accomplish amazing things. There is even an educational version of Minecraft called Minecraft Edu, which is used by over 20,000 students worldwide. Minecraft is an inexpensive game that does not require a very expensive computer to run, is appropriate for all ages, and like all games, creates a sense of friendly competition between the students, making the experience even more fun and interactive.
Video games not only help students learn and understand the context of the lessons, they make it easier for teachers to teach a larger variety of students and improve their overall curriculum. Many teachers use video games to teach classes with students of many nationalities and educational backgrounds. One teacher in New York,
Scott Jackson
, says that video games are "a real good kind of leveler for all students" and that "Everyone can access it, it doesn't put anyone in a certain position, it's an easy jumping off point for the content, for the topic." Outside of the classroom, video games are being used by many teachers and researchers to research and improve school curriculum in a manner that is just as effective and saves tremendous amounts of time and money.
Rich Lamb
, a professor at Washington State University, does research on science curriculum in the classroom by giving students science related tasks within video games and has a computer examine their behavior. The computer then mimics the way students think and learns to solve new problems, allowing the research team to test multiple different changes in the curriculum and calculate the probability on whether or not a certain model will work. This saves millions of dollars by running software off a computer instead of going through the long, expensive process of distributing, processing, and researching the tests of 100,000 students.
Yes, that is a 1 to 1 scale of Kings Landing that some guys made in Minecraft
Some people might disagree that video games can be effectively used for educational purposes. When NBC's Education Nation summit highlighted gamified education and online learning, some teachers and educators did not support the use of video games within classrooms. According to the
Huffington Post
, they argued that children ages 8-18 already spend an average of 7.5 hours a day using entertainment media, students who seem to master skills within educational games have trouble applying those skills to their assessments, it can be difficult to monitor all students using devices, educational games can be expensive when used on a large scale, teachers aren't trained sufficiently enough to use video games in classrooms, and that there is little evidence that video games have a positive impact on student achievement.
X-Box 360 remote
I disagree with these opposing arguments because almost all of them are false, mistaken, or are use examples from only one specific age group. The statement that there is little evidence that video games have a positive impact on student achievement is a misunderstanding of the difference between an educational video game and an "online education program," the term that was actually used in the report. An educational video game is a game solely created for teaching students, however, an online education program is an online school like
K-12
that students use on computers at home. Also, the only examples they use for students having trouble applying skills from video games to assessments and the difficulty to monitor all of them are from first grade classes. Even though educational video games are typically appropriate for all ages, it does take a certain level of maturity and responsibility to use them within classrooms and a teacher should not simply have a first-grade class play a video game and then make them take a test on the educational factors of it. Another opposing argument was that many teachers are not adequately trained enough to start using video games in classes. However, as video games are being seen in classes more often as time goes on, teachers become more and more prepared to apply such technology to student curriculum. What they are right about is the cost of educational games, as it can be very expensive to buy an individual copy for a large amount of students and are rarely used for any subjects other than math and English. Where they are wrong is the actual use of educational games. The technology of educational video games is years behind that of normal video games.
Valve
even has a contract that allows schools to use its hundreds of video games for free.
Video games can be used for educational purposes to create a fun and interactive atmosphere that lets students experiment with the material they are taught to help them understand it more deeply and advance further into the curriculum. Many of teachers around the world are using video games not specifically made for education to demonstrate the context of their lessons in a fun, interactive way that supports a deep understanding of the topic for their students. Many video games that are made to have limitless possibilities for improvisation and modification, like Minecraft, are ideal for use within the classroom. Video games also make it easier for teachers to teach a wider variety of students and improve the overall curriculum. As video games become more and more advanced, so shall the technology at our disposal to teach future generations to come.
--------------------------------------------------------------------------------------------------------------------------
In my blog, I emphasized that video games, when applied to education, can be used to create a fun and interactive learning environment for students to experiment, understand, and expand the material of which they are taught and make it easier for teachers to educate a larger variety of students as well as improve their learning curriculum in a more economically-efficient manner. The comments I received did not change my mind, but made me even more confident about my position. Most comments were curious about how video games could be used in our school and helped me clarify my thinking on this topic by making me consider more ways video games could be used within the classroom. A few comments required me to do further research to reply effectively and persuasively by asking if there are any proven statistical benefits of using video games in school compared to not using video games in school, such as SAT score comparisons. Even though I was not able to find any studies or SAT score comparisons, as the unconventional use of video games for educational purposes has gotten more attention than ever for only a few years, I found even more evidence showing that it is very beneficial. In the process of writing this blog, my intrigue and understanding of this topic grew more and more. As a blogger and digital citizen, the outcome of the process of researching, writing, and reading, thinking about, and responding to comments has been a great experience for me.