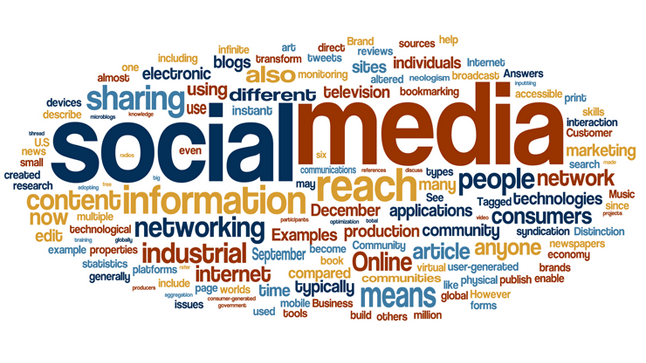 Social Media: Harm or Help?
In the past years, technology has made huge leaps and bounds in the ways we communicate with each other. As social media, the websites and applications used for social networking, has evolved and grown, more and more of the teenage population using it is also increasing. In fact, as of 2012, 95% of teens in America between the ages of 12 to 17 have a social media account. The common question for parents is, "Is social media benefitting our children or is it hurting them?" Despite what you might read or hear about teens behaving badly online, studies show that social media does indeed benefit teenagers' communication skills and broadens their radar for information. Social media is an excellent tool for those who can wield its power correctly.
Social networks, such as Facebook and Twitter, are extremely popular applications for teenagers all over the world. Why is it so popular? Social media is a network of websites that allows users to virtually share and view what others have done. The information can be seen immediately, and is undoubtedly faster than sending letters. Such speeds allow classmates to communicate outside of school, friends from the other side of the world to message each other, and for adults to rekindle old relationships.
Although people often
relate social media to
people who waste several hours of their day posting things, not all users fit into that category. In fact, many people believe that using social media can be helpful.
Nicole Ellison, PhD
says that "the benefits provided by social network sites such as Facebook have made us better off as a society and as individuals, and that, as they continue to be adopted by more diverse populations, we will see an increase in their utility. "
Studies have also shown
that social media helps people practice 21st century skills, find jobs, and reduce loneliness. Nowadays, many jobs revolve around technology. As more work requires using social media and the computer, the more important it is for employees to be able to correctly use it.The more proficient one is with the new technology, the more likely they will be hired. A report in 2002 also proved that social media helps reduce loneliness. For people who have Asperger's Syndrome and those who have trouble communicating with others, social media is a great way to connect with others without feeling uncomfortable.
Not only is the social media a great way to learn from others, it is also an excellent teaching tool. In August 2013, Facebook set up a
workshop in Zimbabwe
and other African countries to inform children about HIV and AIDS. By teaching a few children about the dangers of STDs and correct social media usage, Facebook believes that the kids will be able to spread the news and improve the health of a large population.
Social media is also a good source of current events. On Facebook, for example, the user has the option of liking a news page. The page will send notifications about recent news. That way, when the user logs on, they will be able to see the latest reports.
On several occasions, social media can be used for great good. An exemplary example was made by Youtube user,
MagicofRahat
, who managed to gather over $ 40,000 for a homeless man. The money was raised by viewers who donated after seeing the
first video
made by MagicofRahat. The money was used to rent out a house, buy furniture, appliances, food, insurance and savings. The heartwarming videos show how much people online can help others, even when they could never meet in real life.
Many people, including experts like
Tom Hodgkinson, a writer for the Guardian
, think social media is a waste of time because it takes away the face to face interaction between humans. However, they do not understand that some people can't meet each other face to face. Social media is a high speed mail system that people require to accomplish important things that offer little time to finish. It is also a helpful tool for people to learn how to fit into modern society. Finally, social media can be used for amazing and inspirational causes.
Bibliography
========================================================================
Conclusion: Updated 29 May 2014
When I first learned that we were going to do a blog project, I felt totally fine. Then, Ms. Gerla, our teacher says "Oh, and whatever you write, others from all over the world will be able to read it." At that, my heart skipped a beat. Even though I use the internet everyday and read blogs on several topics, I never really thought of the gravity of posting my own opinion to the world. As we began our project, I had a feel of dread, because I had no idea what to write, what to say and how to say it to an audience. However, as I made more and more progress in my project, I began to feel more and more confident. By the time I finished with my blog, I realized that I really enjoyed the process.
Throughout my blog, I tried to persuade the reader that social media is not as bad as society thinks it is. It can be used to benefit the world. I chose this topic because the society is so against social media, and stereotypes emerge from people who are using it wrong. I wanted to prove that social media is not only a breeding place for bad news. For some, social media is a conduit for them to extend their reach and give aid to others,
Throughout this entire blogging process, I learned several reasons how social media can benefit our society. I read several articles about individuals or groups who selflessly helped other with the help of social media. Being a social media user myself, I plan to follow in their footsteps.
Blogging-wise, I really enjoyed the experience, and if I had the chance to write another blog, I would be more than happy to get started.
Last but not least, I would like to thank you for reading and commenting on my blog. For those who commented on my blog, you all left great feedback, but I did not change my mind about my thesis because everyone agreed with my view. You all also asked excellent questions, and some, I did not have the answer to on the top of my head. I had to research more to be able to answer your question. I really appreciate all of your feedback, and from them, I will improve my writing.
-Sincerely Daniel Wang