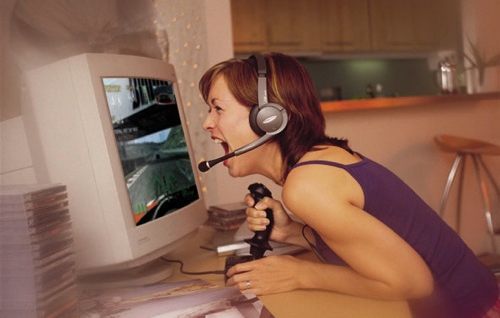 Photo by: Gaming Today
Did you know that excessive gaming is a very serious topic? There have been serious cases that even have
ended in death
. There have also been people who just believe that overall, gaming is harmful. How is it harmful, and what does it do? Excessive gaming has a negative impact on society because it isolates people from their communities and can also cause mental and physical health problems.
Science daily
reports, "While most teenagers (60 percent) spend on average 20 hours per week in front of television and computer screens, a third spend closer to 40 hours per week, and about 7 percent are exposed to more than 50 hours of 'screen-time' per week." This is just too much screen time. Teens could be doing so many other things than going on screens/ playing video games. They could be doing school work, hanging out with friends, playing a sport, or doing something active. So much screen time could lead to obesity. If teenagers could cut down their screen time and boost their outdoor activities, I would guess that there would be a dramatic increase in grades. Now I am not saying that is is wrong to play video games, but 31 hours every week is way too much!
Now that is one side of gaming, what you could be doing instead of gaming. But there are effects that gaming has on people. "The risk factors that made a child a pathological gamer include the child being impulsive and socially awkward"(
Anaya Mandal)
. Being socially awkward is not something that can benefit our community, our society, or our world. Being socially awkward means to not be able to talk to people, or interact with other people. Impulsive is also not necessarily a good thing. We need people in our society who think before they act, and think about what might happen if they do what they are thinking of. We do not want people to blurt out bad language, or say something that they really did not want to say. "Sitting at a computer or console for days, whether it's for "World of Warcraft" or for work, isn't healthy for anyone"(Becky Oskin). This is such a good point! It is not healthy at all for people to stare at a computer screen all day long! Staring at a screen for hours on end can cause headaches, bad eyesight, and in extreme cases, create blood clots. The
National institute of Health says
that too much screen time can increase one's risk of obesity, make it harder to fall asleep at night, and can increase the chance of attention problems, anxiety, and depression. People need to get some fresh air and take a break! People need to cut down on their screen time!
Video games can lead to more serious things besides being socially awkward, and becoming obese. They can also lead to violence, as Richard Gallagher states in one of his studies. "Video games that feature violent actions and scenarios may lead addicted players to be desensitized to the violence.
Richard Gallagher,
director of the NYU Child Study Center's Parenting Institute, states that players who become engrossed in first-person shooter-style video games, for example, may adopt a detached view of society or develop aggressive thoughts and tendencies."This is a very extreme portion of excessive gaming and violent gaming, but is very interesting. There are connections between gaming and real life.
While there are many negative impacts that gaming has on health, there are also a couple of positive effects. Psychologist
Peter Gray
says, "Why would we want to limit a kid's computer time? The computer is, without question, the single most important tool of modern society. Our limiting kids' computer time would be like hunter-gatherer adults limiting their kids' bow-and-arrow time." He has a good point. Computers can be very useful when it comes to researching and playing educational games. In his article he also says that there are positive effects of gaming on mental development, and he goes on to relate gaming to higher test scores. This is very interesting. So many articles have many negative things about gaming, but this one relates gaming and doing better on tests of visuospatial ability. I personally do not believe this. I think that there is no way that gaming could have a positive impact on everyone. There are too many negative studies to even allow this one to be convincing.
All in all, excessive gaming has a very negative impact on the people behind the screens. Ultimately it can affect us all. Lets pull the people out from behind the screens.
____________________________
Updated: November 14, 2013
Conclusion:
I really enjoyed the blog project. This project helped me learn so much about how much gaming can affect ones health, mental state, etc. I found some things that were very interesting and potentially life changing. I know that I will not be playing excessive video games for the reasons obviously stated in my blog. I will also not be allowing my kids to game excessively. I believe that it is not only the child behind the screens fault for excessive gaming, but also the parents and the communities, and I will not let that happen to my child. It not only allowed me to learn about my own topic, but fellow classmates as well! Some of the people in my class wrote great blogs that I found very moving and interesting. This project was not only an educational experience, but it was also really fun. I really liked how much the teachers helped. If I was stuck, they would offer very good ideas or solutions. I also really liked the idea of allowing people to comment on my blog. I liked the comments because most of them were really good feedback, or something new that I did not know...So thanks for the comments! Overall, this project was great, and I would do another one just like it in a heartbeat.